Moon Phase Icons
MP-01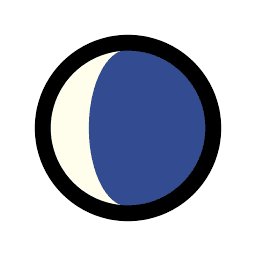 32 symbols per lunar cycle
PNG format. 3 sizes x3 backgrounds (including transparent)

Immediate download
Price : €5
Moon phase icons with 32 phases for one complete lunar cycle. You get the standard icons for New Moon, Waxing Crescent, 1st Quarter, Waxing Gibbous, Full Moon, Waning Gibbous, 3rd (Last) Quarter, Waning Crescent plus an additional THREE icons between each.
3 complete sets at 3 sizes, plus ready-made sprite image sheets.

Royalty free for personal and commercial use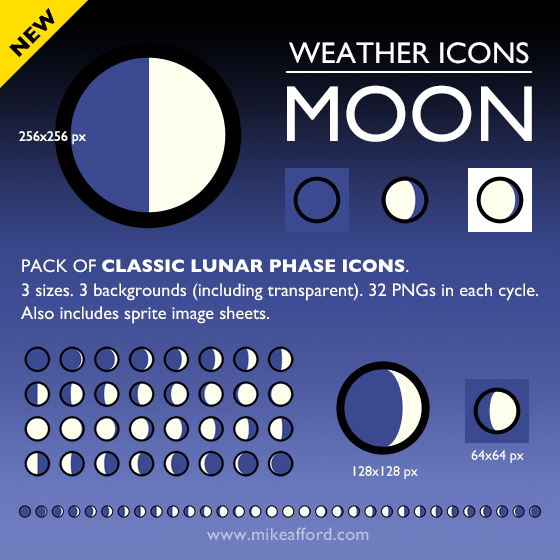 Product details
Format : PNG (solid coloured backgrounds), PNG (transparent backgrounds), PNG (white backgrounds).
Single image dimensions : 64x64 pixels, 128x128 pixels and 256x256 pixels
Image sheet dimensions: For each background (coloured, transparent, white) the 64x64 pixel icons arranged on a single sheet : 64x2048px and 512x256px versions
Designed by former BBC TV Senior Designer Mike Afford - designed originally for use with the TV-style Weather Icon Sets TV-01 and TV-02.
---
| Site design by Mike Afford
DISCLAIMER : Neither Mike Afford Media nor any of its officers, employees, managers, members, shareholders, directors or suppliers, shall be liable for any damages, whether direct, indirect, consequential, or incidental, arising out of or relating to the use of, or the inability to use, this website or any Image or Images.