---
FREE Wind Icons and Wind Arrows
A special free pack of wind symbols and wind arrows.
Discontinued really, but I've left them here if anyone wants them :)
Solid PNGs, transparent PNGs, and animating GIFs, each at four sizes.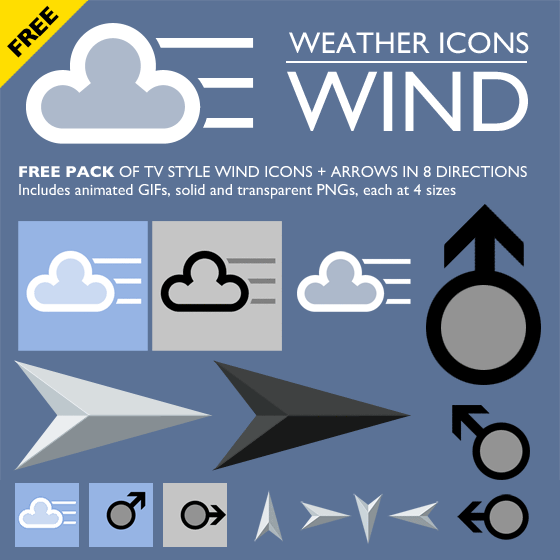 Product details
Format : Wind icons - PNG (solid coloured backgrounds), PNG (with transparency), animating GIF.
Wind arrows - solid and transparent PNG versions.
Dimensions : 64x64 pixels, 100x100 pixels, 128x128 pixels and 256x256 pixels
Wind Arrows : 'Disc' and 'Dart' styles with variants. Each in 8 directions - N, S, E, W, NE, SE, SW, NW
| Site design by Mike Afford
DISCLAIMER : Neither Mike Afford Media nor any of its officers, employees, managers, members, shareholders, directors or suppliers, shall be liable for any damages, whether direct, indirect, consequential, or incidental, arising out of or relating to the use of, or the inability to use, this website or any Image or Images.