Weather symbols for kids
UPDATE (July 2013) : I have updated a number of my symbol sets to include SVG format versions of every icon – this includes Icon Set TV-02. The updated set also includes every icon at 512×512 pixels which may print satisfactorily for some purposes. If 512×512 pixel PNGs are OK for you, or if you are familiar with the SVG format and are able to use SVG files, say, in a program like Adobe Illustrator, then you may be better off buying the full 92 icon set rather than the PDFs below.
---
ORIGINAL POST (June 2012)
I've had enough people now (mainly teachers and schools) asking about printable versions of our TV-style weather symbols that I thought it was about time I made some printable vector versions available for download.
So here is the 'School Pack' – designed for anyone who wants simply to print out some weather symbols for kids, or perhaps use them as illustrations for children's weather worksheets. I figured that a set of symbols as individual PDF files might be the most versatile and useful – they can be scaled up and printed poster-size if you want, or easily embedded as illustrations in other documents.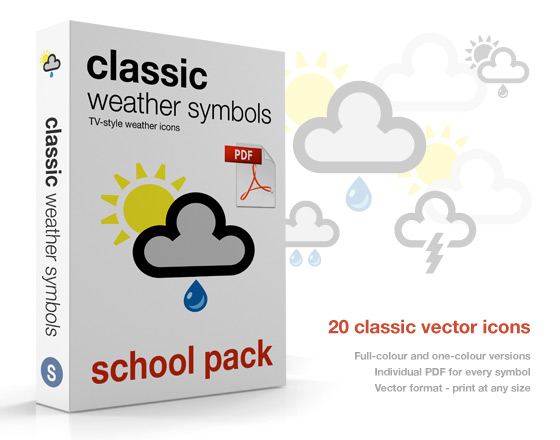 The pack consists of 20 of the most 'classic' weather symbols (sunshine, sunny spells, white cloud, black cloud, light and heavy rain, snow, hail, sleet and thunderstorms, and the equivalent versions for 'showers' with a bit of sun peeking out). They are each saved as an individual PDF file – the symbols are in vector format, so can be scaled and printed at any size. There are two versions of each symbol too – a full colour one and a special set of one-colour versions.
To get the Weather Symbol School Pack right now simply click the button below.
Weather Symbol 'School Pack' : Price € 10
As always, these are royalty free for personal or commercial use, and are designed specifically as a safe and legal alternative to the (copyrighted) BBC ones.
Posted in categories:
Tags: