---
BBC Weather
3D weather graphics for real-time forecasts
A new look for weather maps and a completely new system for producing weather forecasts at the BBC.
Layers of Met Office weather data displayed over true 3D maps using the New Zealand 'Weatherscape' system adapted specially for the BBC. Weather data is shared across all the BBC regional centres as well as online outlets. 3D broadcast graphics all rendered in real-time.
The BBC Weather graphics picked up a BDA award in the category 'Information Graphics' at the BDA World Gold Finals 2006.
---
Ident
A composite of an actual glass sphere from a heliograph with 3D Maya animations of refracted skies, using After Effects. Below : static tests and broadcast versions.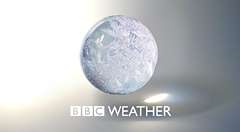 ident test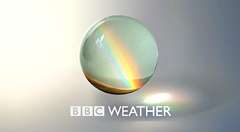 ident test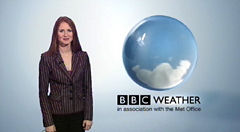 BBC Weather ident - blue skies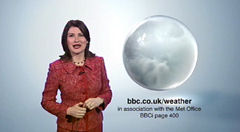 BBC Weather ident - grey skies
---
Weather Symbols
See the full set of traditional BBC Weather symbols
Here are some early tests and example of reworked cloud symbol. The classic symbols were re-drawn - just a few minor tweaks, mostly to help them work at small sizes on the web.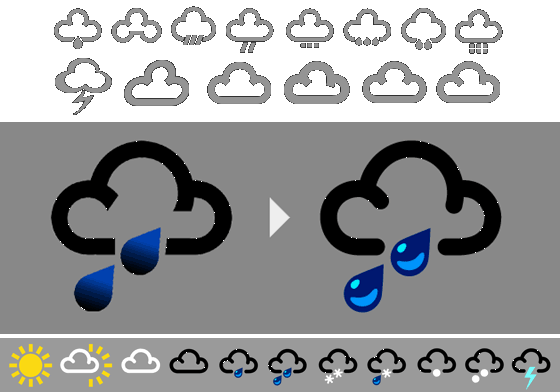 From 'The Cloudspotter's Guide' by Gavin Pretor-Pinney :
'The cumulus symbols were used to stand for cloud cover for thirty years until 2005, when the BBC weather graphics were completely redesigned into a dynamic 3D system, which showed how cloud coverage and rainfall distribution varied in real time. Whilst the new system gave a much more accurate indication of cloud cover, viewers complained that the way the camera panned and swooped across the computer generated map made them feel sick. But perhaps that was just and excuse and, like me, they were merely sad to have to say goodbye to the friendly Cumulus symbols.'
---
Weather Maps

Replacing symbols with data-driven surface effects - early proof of concept

Base maps - early colour tests

Early colour palettes for 'day' and 'night'

Tests for cast shadows

Test : Observed (satellite) day / night. Forecast (sun and shadow)
---
Outlook icons

Icon development : symbol + background

Icon development : temperature + background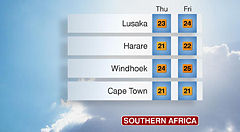 turned out nice again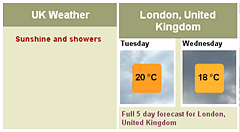 outlook icon on the BBC Weather home page
---
BBC Weather graphics : On air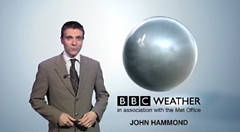 'Grey skies' opening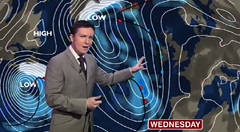 Atlantic pressure with rain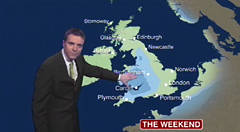 temperatures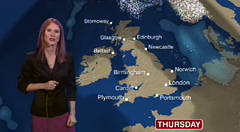 Long-range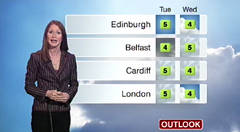 Outlook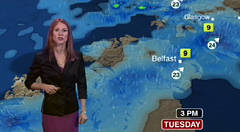 Northern Ireland close up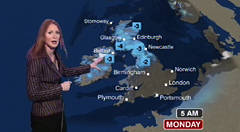 Overnight frost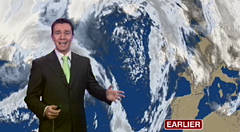 Satellite image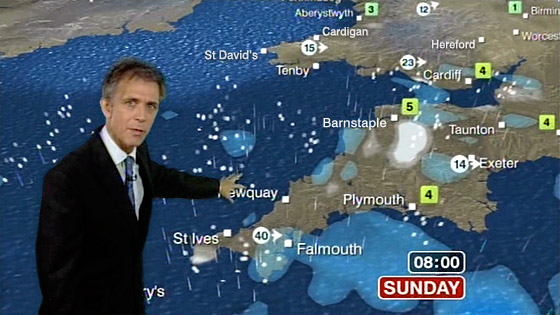 The mighty Dan Corbett
---
See also (external links)
Winds of change BBC News (May 2005).
New Graphics - FAQ (no longer available) : The BBC's official response to the many queries from the public following the launch.
Metra - Weatherscape : The New Zealand company behind the graphics software.
Additional content © BBC | Site design by Mike Afford