Television graphics for the BBC2 spoof news programme 'Broken News'. Broadcast Designers Association award winner
Broken News
---
5 continents, 25 channels, 227 reporters...
All the news you're ever going to need in 30 minutes
---
The Brief
The brief for this show was to conceive and produce the channel identities for about thirty channels or channel strands for a 6-part comedy show lampooning the relentless march of 24-hour news. The aim was to go for a believable look first and foremost - the graphics were not intended to be comedic in themselves - the writers were quite clear that the graphics should look convincing enough to be the real thing.
I began by presenting ideas for the main channels (there were about 6 or 7 featured brands, some of which needed titles or stings in addition to name-supers and other on-screen architecture. As well as the main channels, I needed to produce convincing 'on the day' graphics, as well mock virtual studios and nearly 10 different styles for weather forecasts.
The whole project was produced mainly on a Mac with Photoshop and After Effects, but I also used Quantel Hal for some, and some 3D animations using a variety of different 3D packages. The lower-thirds were rendered in real-time using RTSoftware's tOG platform.
---
P.V.S. NEWS
The 'Broken News' public service broadcaster.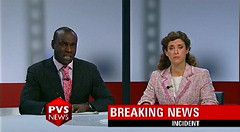 PVS News studio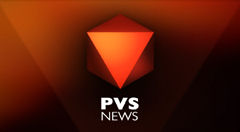 PVS News logo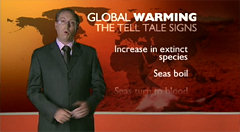 PVS content graphics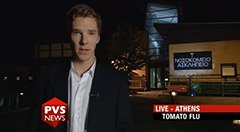 The Cumberbatch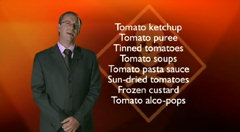 PVS content graphics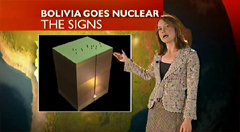 PVS content graphics
---
E.S.N. NEWS
Populist, gimmick-heavy channel somewhere between Sky and ITN. Features 'Standing News', reports from outer space, and a tendency to concentrate on what's 'coming up next'.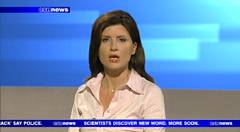 ESN's Katie Tate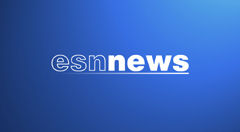 ESN News logo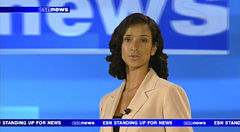 ESN Standing News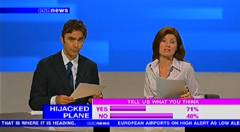 Tell us what you think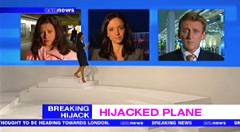 ESN Standing News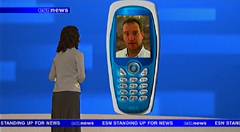 ESN live by phone
---
I.B.S. NEWS
An American channel. Featured 3D curving straps for lower-thirds, a shiny bevel-heavy logo, and garish weather graphics.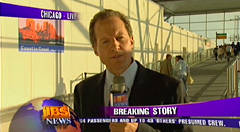 I.B.S. reporter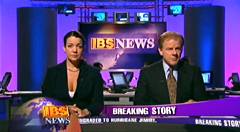 I.B.S. studio
---
Look Out East
Local TV for East Anglia. The writers were keen for this not to appear too home-spun, but to be simple and clean, with ambitions. This was also one of the few strands to include the title sequence. And I couldn't resist supplying Russ the weatherman with the most ludicrous zoom in from outer space to a graphic showing some fields for his weather forecast.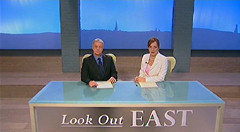 Look Out East studio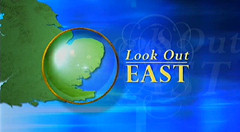 Look Out East titles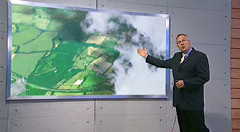 Here's Russ with the weather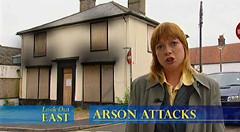 Look Out East reporter
---
So News
Celebrity gossip and suchlike in the mould of something like 'Liquid News'. Spinning logo in plasmas, and 'tabbed' lower thirds.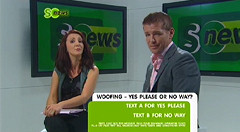 So News studio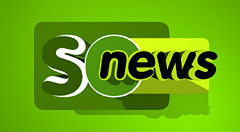 So News titles
---
Go Sports 1
Obviously a take on Sky Sports. Scores and stats slid about in the right hand panels. A double-decker ticker kept things nicely confusing for the lower thirds. The 'blue fire' channel.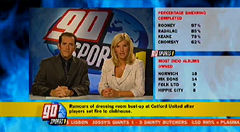 Go Sports 1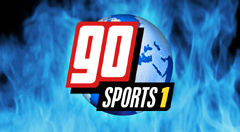 Go Sports 1 logo
---
World Money Today
Financial strand featuring multiple correspondents from around the globe. I made a 3D and After Effects animation (an end resolve of the WMT monogram) as the tail end of a never-seen title sequence.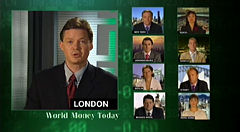 World Money Today reporter composite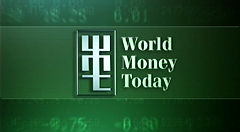 World Money Today logo
---
Aronovitz
Bloomberg on steroids. A plethora of tickers going left and right and as many things spinning round as possible. There were some classic stocks scrolling around if you could be bothered to look out for them. My own favourite - 'Evil Wizards'.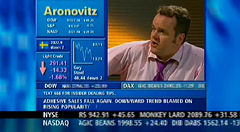 Aronovitz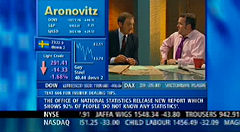 Aronovitz
---
15 seconds
Absurdly short news round-up, along the lines of 60 seconds, but much shorter. Hence the name.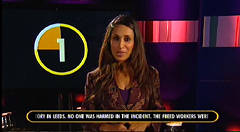 15 seconds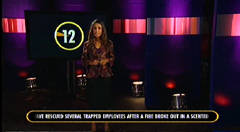 15 seconds
---
Film and Movie News
Traffic-Round-Up-Date
Jonathan Ross-style shennannigans in Film and Movie News - bringing you all the latest news, reviews, and interviews from the worlds of film, and movies. Another of the segments that needed the impression of a full title sequence - we see only the end resolve on screen though. The traffic reports were something that I imagined might have had no design input in real life, so I left it well alone, apart from suggesting that we use 'Arial' if possible, in white, with a black drop shadow.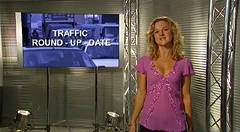 Traffic-Round-Up-Date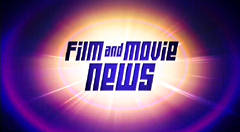 Film & Movie News
---
Various reporters
Various reporters - all called Sam. I had to do a number of stand-alone graphics for each show. Some of these were full CSO, so I suggested doing a few mock virtual studio set-ups. Some of the reported pieces were attached to the PVS channel, but most others were stand alone - as if they'd drifted in from some other (unseen) channel. I also got a chance to do, at last, the mother of all plane crash graphics.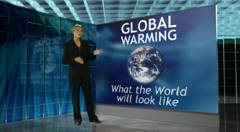 virtual studio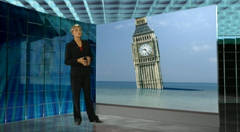 virtual studio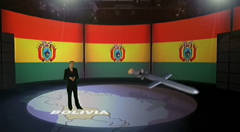 virtual studio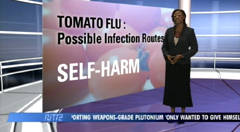 virtual studio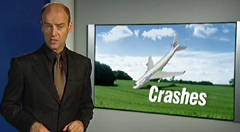 plane crash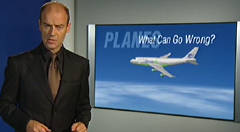 plane crash
---
Other Channels
Here are some of the other channels that needed their own branding - often just for the lower-thirds. The tightness of the production schedule meant that I was designing these without seeing the studio set for each. So a few of the colour combinations on screen might seem a bit random - and some of them were turned round so fast that only a flat colour strap would do. The channel acronyms apparently all mean something appropriate to the bland and sedentary lives of 24 hour news junkies.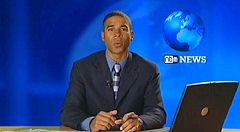 NBI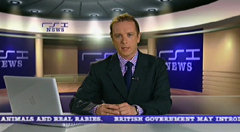 RSI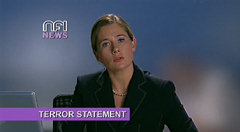 NFI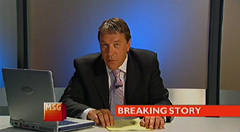 MSG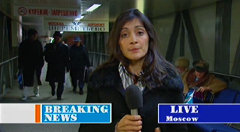 unnamed channel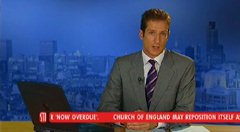 STI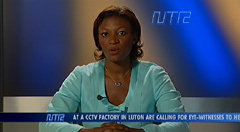 NTR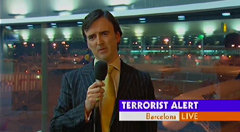 unnamed channel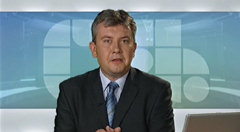 CFB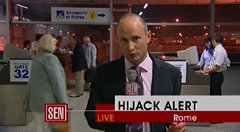 SEN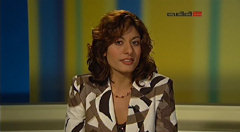 ADD2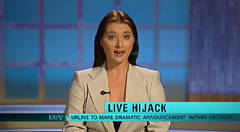 DVT
---
Foreign News Channels
The foreign channels were a last minute addition - VERY fast turnaround, made easier by having grabs of each main presenter position in advance.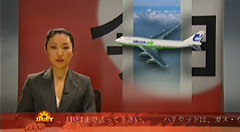 JJNet (Japan)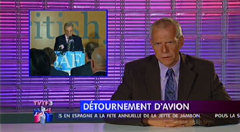 TVTF3 (France)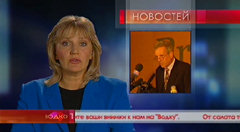 Vodka 1 (Russia)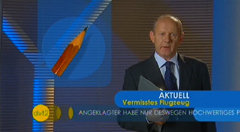 DVT2 (Germany)
---
Weather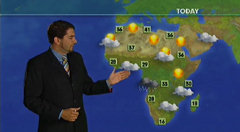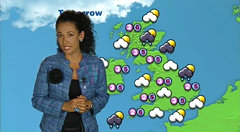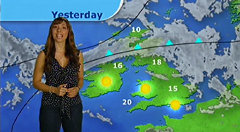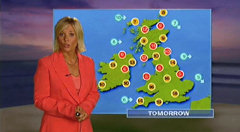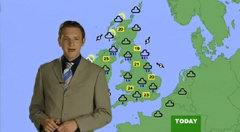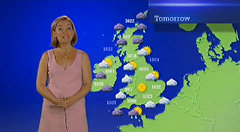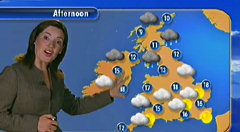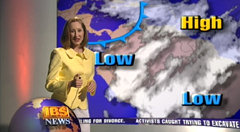 ---
Further information
Additional content © BBC | Site design by Mike Afford