mike afford media : TV graphics, broadcast graphics design, motion graphics. TV and corporate video, Leitrim, Ireland.
TV Graphics
Expertise at every stage of broadcast graphics creation
Channel branding and idents, titles, credits, TV graphics content, 3D and VR studios. Award-winning TV graphics for News and Current Affairs programmes, Elections, Weather Graphics and International Events.
---
Channel Branding and Idents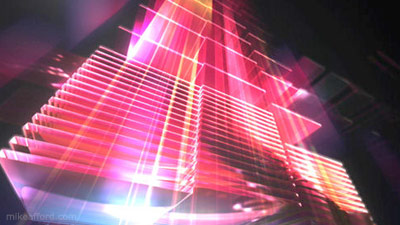 BBC Arabic TV
Mike Afford led the TV design team responsible for the channel identity, branding and automated graphics content for BBC Arabic - the BBC's Arabic language Television service.
---
Weather Graphics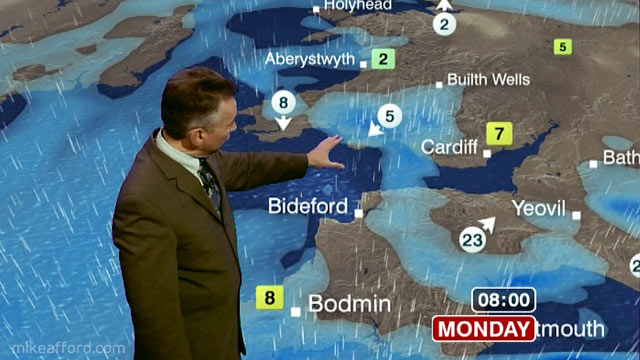 BBC Weather
Mike Afford was the senior graphic designer for the award-winning BBC Weather Graphics which for the first time made use of realtime 3D technology to revolutionise telling the weather story across the entire BBC national and regional output.
---
Virtual Studios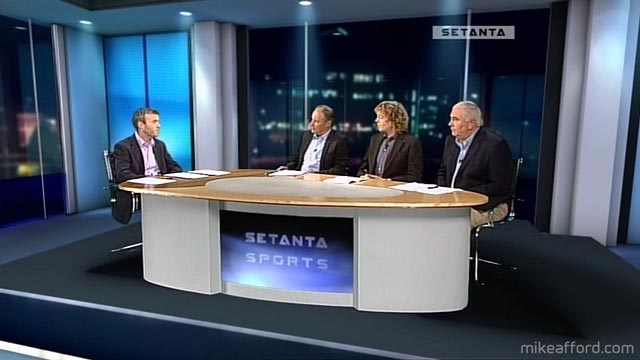 iTalkSport VR Studio (Setanta Sports)
As well as designing many high-profile VR graphics for the BBC, Mike also designs and builds Virtual Studio Sets for clients worldwide, including Setanta Sports in Dublin, Ireland.
Mike has also recently started offering custom TriCaster virtual studio set design.
---
Title Sequences and Motion Graphics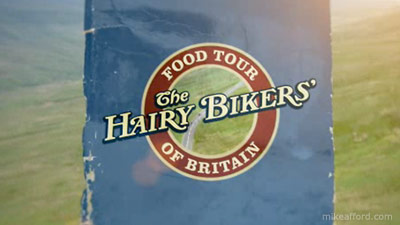 The Hairy Bikers' Food Tour of Britain (BBC)
Over 20 years experience in the industry producing title sequences and motion graphics for TV.
Programme logo design and animation, full title sequences, title music, and content graphics.
BAFTA and Royal Television Society award-winner.
---
Election Graphics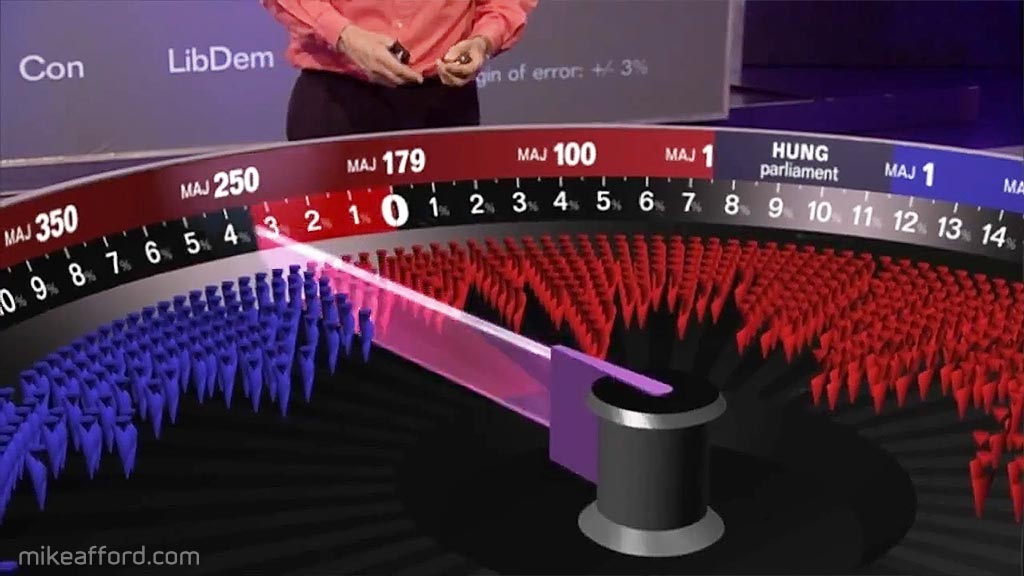 The virtual swingometer from BBC Elections
Mike Afford has designed state-of-the-art graphics for countless BBC Election programmes.
Here are just a few examples of award-winning BBC Election work.
---
3D Realtime Motion Graphics and VR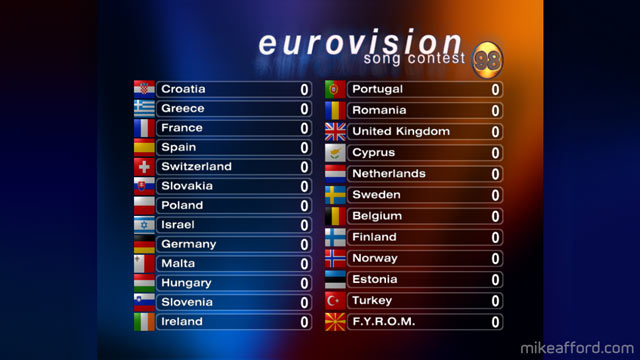 Eurovision Song Contest
Realtime TV graphics are those rendered 'live to air' direct from a graphics rendering platform (often 3D-model based sequences driven by a live data stream) - as opposed to being pre-rendered and recorded on to disk or tape for playout at a later time.
Broadcast applications have naturally included Election programmes where the need to display results on screen with the minimum delay has always been paramount.
Mike Afford has always been at the cutting edge of 3D and real-time graphics. He designed the first data-driven 3D graphics for same-day transmission for the BBC Election Campaign way back in 1992. Europe Decides showcased the first full-screen live-to-air 3D (Royal Television Society nominated for Graphic Design). Mike also designed the first realtime-only graphics for a UK General Election programme (Election 97) - all subsequent Election programmes have used real time 3D technology.
Further developments in computer hardware made TV graphics rendered live from PCs the affordable option for every broadcaster. Mike's graphics for the BBC's 'Working Lunch' were among the first to use PC platforms to render financial data and analysis live-to-air, and the new BBC Weather Graphics are also rendered in real time from PCs.
We can offer advice and guidance for your own programme needs - virtual studio design, or bespoke 3D design and animation solutions for real-time graphics systems (tOG, Brainstorm, VizRT).
See also : Virtual Studio design
---
Compositing and Visual Effects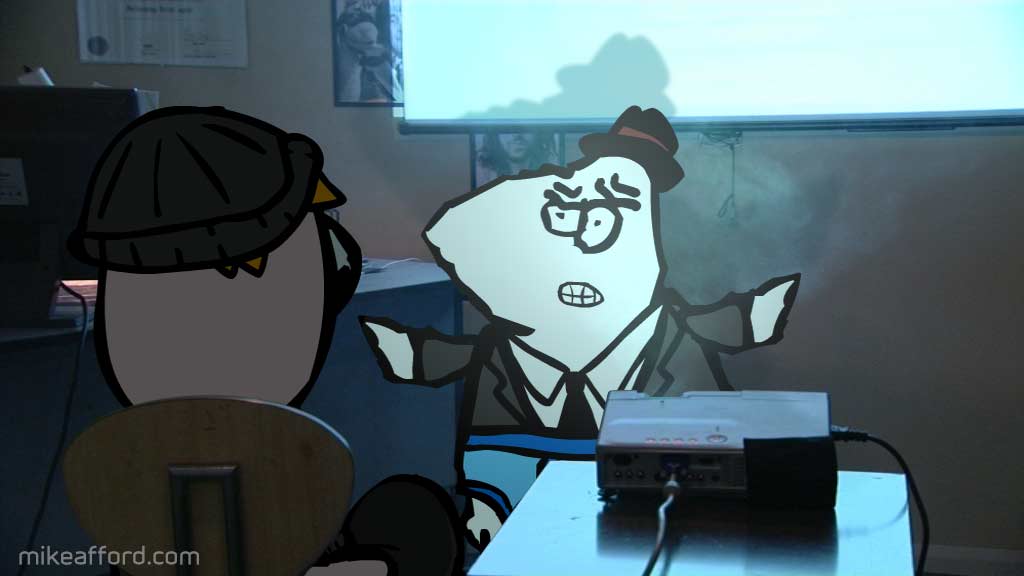 Little Howard's Big Question (CBBC)
Working with our friends at Made In Colour we comped two series back to back of the children's TV show Little Howard's Big Question for CBBC.
Plenty of motion tracking, green screens and the kind of general jiggery-pokery you'd need to combine animated characters with live action.
Also recently completed some visual effects shots for the Irish film Songs For Amy
---
Music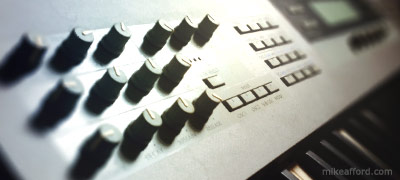 TV Themes
Mike has also composed and produced a number of long-running TV theme tunes, including BBC Fast Track, Reporters and Africa Business Report.
Mike is a member of PRS for Music (Performing Right Society).
---
Additional content © BBC, Setanta Sports | Site design by Mike Afford