Weather Widget Revisited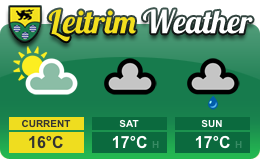 My WordPress Weather Widget v 2.0
I have just put the finishes touches on my latest attempt at a Local Weather Widget for WordPress, this time branded in Leitrim colours.
I first had a stab at this kind of thing a couple of years ago but removed it when it broke the blog completely…! This new version seems a bit more stable, but still suffers from missing data from the Yahoo! Weather feed, especially overnight. Also, and here's the problem, it's still hard coded into a text widget, which isn't exactly ideal. You should be able to see the real thing at the bottom of the sidebar on the right… (UPDATE : I turned the weather widget off – as it was a bit too easy for the unscrupulous to download a free set of my weather icons..!)
So if there are any bored PHP / WordPress experts out there who'd be interested in a collaboration, please do get in touch. It'd be nice to make this into a proper Irish Local Weather widget downloadable from wordpress.org/extend, with options in the admin page to select your county branding, your town or city (or long-lat?), and choose from current, 1 day or 2 day forecasts or combinations.
As before, the XML parsing and CSS classes are based on those by Marco Voegeli. The data is currently coming from Yahoo!Weather, but I'm in the process of investigating the free weather API from World Weather Online – they offer a longer-range forecast, and they're also using my weather icons here and there!
Posted in categories:
Tags: