Title sequence for 'Flannel Alan'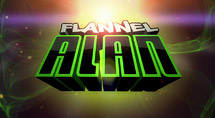 The All New Adventures of Flannel Alan
Titles and content sequences for The All New Adventures of Flannel Alan – a brand new reboot of the original 'Flannel Alan' children's TV show.
The characters from the original series have been completely redesigned and updated, and most of the show is now 3D animation instead of live action and puppetry.
The graphics were made using Cinema 4D for the 3D bits, and composited in After Effects.

Episode 1 re-tells Flannel Alan's origin story, and introduces brand new adversaries in the form of the fiendish alien Dino-flyers and Robo-gators. Alan's bath is now able to fly, so a lot of the action takes place in space. The starfield for the space scenes uses the Trapcode Horizon plugin from Red Giant Software.
The original series was famously cancelled by BBC boss Todd Otterback, despite protests from certain disgruntled six-year olds.

(left) 'New' Flannel Alan comes under attack in his space-bath. (right) The original Flannel Alan
Posted in categories:
Tags: