---
Weather Symbol Set 8

40 symbols, PNG format (with transparency)
Pack includes original vector artwork

Immediate download
Price : €15
40 original weather icons
A complete set of cute weather icons to download.
Transparent backgrounds, PNG format, each at 512 x 512 pixels.
Also included is the original artwork in VECTOR format (Adobe Illustrator version 9, and CS5)
Royalty free for personal and commercial use
Complete set of 40 weather icons for every weather type.
Full set of night-time versions. Ideal for web apps, iphone apps etc.



Product details
Formats : The full set of 45 icons - PNGs (with transparency). This pack also includes the original artwork as a layered Adobe Illustrator file (version 9, and CS5 format)
Dimensions : 512x512 pixels (PNGs)
Weather codes : 1. sunny, 2. sunny spells, 3. white cloud, 4. black low cloud, 5. hazy sun, 6. mist, 7. fog, 8. clear sky (night), 9. light rain showers, 10. heavy rain showers, 11. light snow showers, 12. heavy snow showers, 13. sleet showers, 14. light hail showers, 15. heavy hail showers, 16. thundery showers, 17. cloudy with light rain, 18. cloudy with heavy rain, 19. cloudy with light snow, 20. cloudy with heavy snow, 21. cloudy with sleet, 22. cloudy with light hail, 23. cloudy with heavy hail, 24. thunderstorms, 25-40. Night-time versions of the above (where applicable), 41. cloudy (night), 42. partly cloudy (night), 43. windy, 44. hot, 45. cold
Weather symbol vectors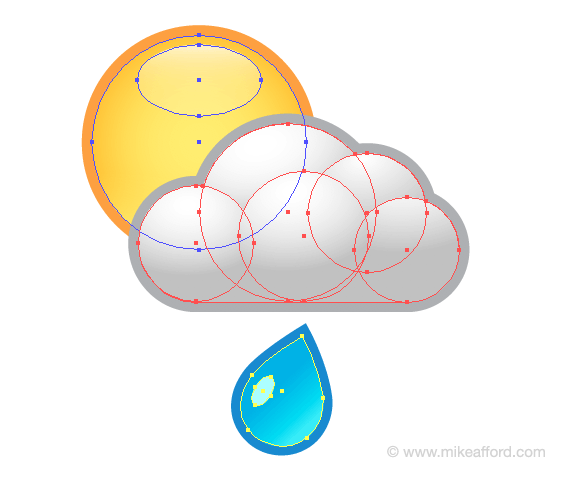 The original artwork for this set is included in vector format (.ai, CS5), so you can export an icon up to any size and still keep perfect quality. We've also included a 'legacy' format (Illustrator version 9).
---
You may also be interested in...
| Site design by Mike Afford
DISCLAIMER : Neither Mike Afford Media nor any of its officers, employees, managers, members, shareholders, directors or suppliers, shall be liable for any damages, whether direct, indirect, consequential, or incidental, arising out of or relating to the use of, or the inability to use, this website or any Image or Images.