---
Sample Set 1 (64x64 pixels)

TV-style weather icons (get larger sizes)
40 symbols, 64x64 pixels, PNG format (solid backgrounds)

Immediate download
Price : €5
40 original icons in a TV Graphics style
Royalty free for personal and commercial use
A set of 40 unique weather symbols saved as individual PNG images with solid backgrounds. A single zipped file includes the complete set of weather icons at the smallest size 64x64.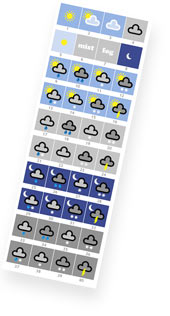 These icons appear on coloured background squares at 64x64 pixels - you can get the full set including 3 larger sizes here.These symbols are also available separately with transparent backgrounds and also as animating GIFs on coloured backgrounds.
Take advantage of our special offer and get ALL 3 COMPLETE SETS at 40% off.
Designed by former BBC TV Graphic Designer Mike Afford specifically as an alternative for those wanting to use the famous BBC symbols without the worry of potential copyright infringement.
This symbol set has been designed to retain the 'feel' of old-school TV graphics, but has been redrawn from scratch and with enough variation in colour, curve and position of the various elements to distance itself from the original inspiration.
In addition, this symbol set includes three variations of cloud colour, and a full set of 'night-time' versions.
Product details
Format : PNG (opaque - solid backgrounds)
Dimensions : 1 complete set at 64x64 pixels
Weather codes : 1. sunny, 2. sunny spells, 3. white cloud, 4. black low cloud, 5. hazy sun, 6. mist, 7. fog, 8. clear sky (night), 9. light rain showers, 10. heavy rain showers, 11. light snow showers, 12. heavy snow showers, 13. sleet showers, 14. light hail showers, 15. heavy hail showers, 16. thundery showers, 17. cloudy with light rain, 18. cloudy with heavy rain, 19. cloudy with light snow, 20. cloudy with heavy snow, 21. cloudy with sleet, 22. cloudy with light hail, 23. cloudy with heavy hail, 24. thunderstorms, 25-40. Night-time versions of the above (where applicable)
---
Weather Icons - Complete Sets
---
| Site design by Mike Afford
DISCLAIMER : Neither Mike Afford Media nor any of its officers, employees, managers, members, shareholders, directors or suppliers, shall be liable for any damages, whether direct, indirect, consequential, or incidental, arising out of or relating to the use of, or the inability to use, this website or any Image or Images.