---
Hand Drawn Weather Icons (Symbol Set 5)

Sketch-style weather icons (2 sets)
32 symbols, 4 sizes, PNG format (with transparency)
Includes wind arrows and Truetype font

Immediate download
SPECIAL OFFER : €15
32 'hand sketched' weather icons as PNGs and Truetype font
A new set of weather symbols in a 'sketchy' style. 2 different packs ('coloured' and 'outline'). Includes icon for 'windy' and 8 directional wind arrows. Also includes text icons for 'Hot' and 'Cold'. Also included is the whole set as a Truetype font.
Royalty free for personal and commercial use
32 weather icons including wind arrows.
Coloured and Outline versions.
Both sets at 4 sizes - 256x256, 128x128, 100x100 and 64x64 pixels
Also included is the outline set as a Truetype font 'Weather Sketched Regular'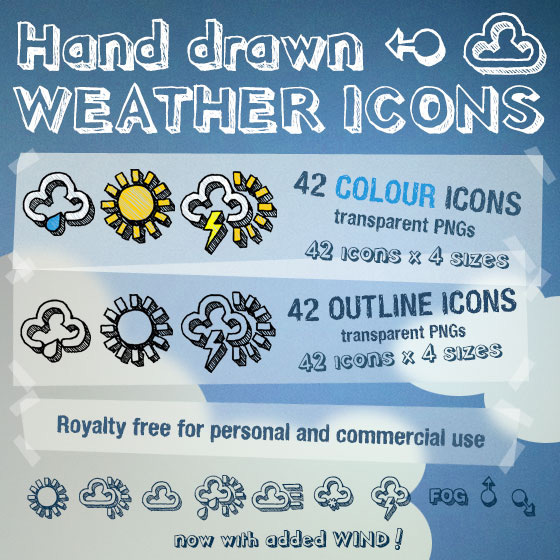 Designed by former BBC TV Graphic Designer Mike Afford - ideal for use with hand-drawn fonts like 'Pointy', 'Handvetica', 'Grutch Shaded', 'Sketch Block' etc..
Product details
Format : Images - PNG (with transparency). Font - Truetype
Dimensions : 8 complete sets - 2 each at 64x64 pixels, 100x100 pixels, 128x128 pixels and 256x256 pixels
Weather codes : 1. sunny, 2. sunny spells, 3. cloudy, 4. light rain showers, 5. heavy rain showers, 6. light snow showers, 7. heavy snow showers, 8. light hail showers, 9. heavy hail showers, 10. sleet showers, 11. thundery showers, 12. windy, 13. light rain, 14. heavy rain, 15. light snow, 16. heavy snow, 17. light hail, 18. heavy hail, 19. sleet, 20. thunderstorms, 21. fog, 22. mist, 23. hot, 24. cold, 25-32. wind arrows in 8 directions
Guide to sizes

---
You may also be interested in...
| Site design by Mike Afford
DISCLAIMER : Neither Mike Afford Media nor any of its officers, employees, managers, members, shareholders, directors or suppliers, shall be liable for any damages, whether direct, indirect, consequential, or incidental, arising out of or relating to the use of, or the inability to use, this website or any Image or Images.